Water Damage Restoration in Fate, TX
24/7 Water Restoration Services
Finding water damage in your Fate, Texas home or business requires a quick response to minimize damage and expenses.  As such, you will need a local water damage restoration company on your side to care for the water mitigation and water damage repairs.
For this reason, it is always the first priority, of any restoration company, to begin the water removal process as quickly as possible. Dryman Restoration is able to respond to your water-related disaster 24/7/365.
Dryman Restoration offers 24/7 Water Restoration in Fate, TX
Common Causes Of Water Damage Fate
Water damage can be caused by a long list of different causes, all causing their own unique set of damages which will require specific equipment and experience to handle correctly. Understanding the most common causes of water damage in your area will help you prepare for the potential disasters, and in some cases even work to prevent those situations. Our most common causes of water damage Fate include:
Burst or leaking pipes
Sewage backup or toilet overflow
Natural disasters, flood damage, and storms
Faulty appliances
24/7 Water Removal Services
Standing water is a serious issue in your home or business. This is because it continues to cause more damage each second that it is in contact with the surfaces of your space. In these instances, it helps to seek the advice and assistance of a professional water extraction company for water removal services.
Our team arrives equipped with industrial-grade water removal equipment which enables us to perform the water extraction faster than any of our competitors. This not only saves you time and money, but also protects you from significant secondary damage.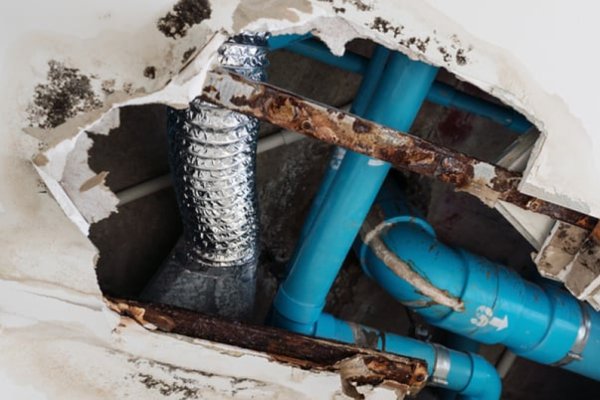 Our Complete Water Damage Cleanup Process
Water Damage Fate Inspection
After finding water damage in your home or business, call the Dryman Restoration. We dispatch a trained water restoration technician to inspect the affected space, develop a water restoration plan, and prepare your cost estimate and timeline.
Water Extraction
The most important part of any water restoration project is removing the water as quickly as possible. Our team of water damage technicians will utilize our truck-mounted water extraction equipment to effectively remove every last drop of water from your property.
Drying & Dehumidifying
Once the standing water has been addressed, we will shift our focus to drying and dehumidifying the area to prevent any further damage or mold growth. This includes removing the overly saturated materials. 
Water Damage Repairs
 Should your property require more extensive water damage repairs, we are qualified to handle these. Our crew makes seamless water damage repairs that return the property to its pre-loss condition.
Water Damage Repairs
Water-related disasters can cause damage to various aspects of your home or business. From minor drywall fixes all the way to full-scale restoration, you will need to find a restoration company that can handle whatever water damage repairs you may need.
Dryman Restoration is a licensed general contractor with years of experience in the field. Our team of carpenters, craftsmen, technicians, and plumbers can handle any and all water damage projects no matter how big or small.
Does Homeowners Insurance Cover Water Damage?
Great news for you: The big majority of water damage causes are covered by regular run-of-the-mill insurance. The only source of water damage that might require additional plans with your insurance provider is flood damage. 
Whenever you are dealing with insurance, we always recommend that you call up your insurance provider and have them walk you through your specific coverage.