Following a water-related disaster, or if certain areas of your home or business have poor airflow and high humidity,  mold becomes a major threat to your property. Mold growth can appear overnight and spread throughout an entire building in a matter of days. Determining the extent of the mold growth and then working to quickly remediate the issue, is the best way to protect your property.
At Dryman Restoration, we provide expert mold remediation and mold removal services to local home and business owners. Our IICRC certified mold removal technicians are ready at the drop of a hat to help clear your property of unwanted mold growth.
Call Dryman Restoration To Schedule Your Free Inspection
Professional Mold Remediation
Mold damage poses several significant threats to your property as well as your health. Handling mold damage is a job that should always be left to the experts since handling it improperly can not only spread the mold further, but it can also pose significant health risks.
Give Dryman Restoration as soon as you notice mold damage in your home or business. Due to the nature of mold and how quickly it can spread, no matter when you call us, we will be prepared 24/7 to respond immediately to your mold damage emergency.
Mold Related Health Risks
As we mentioned above, there are serious health risks associated with prolonged exposure to increased concentrations of mold spores. As an airborne fungus, when you have mold growing in your home or business, that means that whenever you are in the building you are constantly exposed to the spores, the health risks include:
Skin irritation, rashes, and hives
Breathing issues
Developing or worsening asthma
Coughing & sneezing
Long-term diseases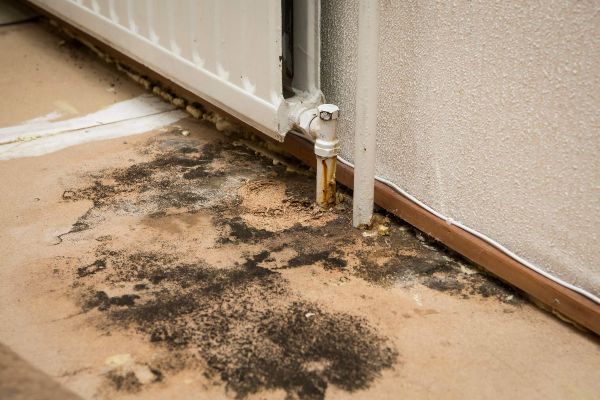 Mold Removal & Mold Remediation Process
Air Quality Testing
Mold can be tricky to identify with the bare eye, so you may need to hire an industrial hygienist to test the air quality to figure out exactly which mold types are present and and what concentration.
Mold Removal
Because mold is an airborne fungus, when removing the mold damaged materials countless mold spores will be released into the air. To limit the impact of this, our team of technicians will isolate the mold damage by constructing a HEPA filtered containment barrier. We will then safely remove any irreparably damaged materials and swiftly dispose of them according to the most recently accepted standards.
Mold Cleanup
The containment barrier will hold in all those mold spores that were kicked up into the air and inevitably spread to every surface. So when we are done removing the mold damaged materials, our team will go through using an industrial cleaner to wipe down all of the surfaces within the affected area.
Mold Damage Repairs
The last step in the mold remediation process is to complete any repairs needed to restore your property to its pre-loss condition. As a licensed general contractor, you can count on Dryman Restoration to complete any repairs, no matter the size or scope.
Does Homeowners Insurance Cover Mold Damage?
Unfortunately, mold damage is one type of property damage that is rarely ever covered by your basic homeowner's insurance policy. This isn't always the case, but due to the nature of mold growth, the damages are generally seen as a result of negligence or lack of upkeep. The one common exception is if the mold growth is the result of a previous water-related disaster that was covered by your insurance.
Whenever you are dealing with insurance, we always recommend that you call up your insurance provider and have them walk you through your specific coverage.