Expert Water Repair Services
When your home or business property is damaged in a water-related disaster, it is not uncommon to need water damage repairs to restore the space to pre-loss condition. From flooring fixes to drywall, ceiling, and other fixtures in your home, water repairs help make your space functional and aesthetically pleasing again. Your #1 local water damage repairs company, Dryman Restoration, is here to help you. We are a certified water repair company in the Rockwall TX and metro Dallas area.
#1 Locally Trusted Water Damage Repair Company
Most Common Causes Of Water Damage
Knowing where the water damage originated helps us respond in a correct manner. This will not only save your precious time, but also money. Different causes of water damage have different structural consequences that will need to be addressed. Count on Dryman Restoration to help you figure out what needs to be done. Here is a list of the most common sources of water damage:
Burst or leaking pipes
Sewage backup or toilet overflow
Natural disasters, storms, flood damage
Faulty appliances
Water Damage Repairs
After a major water loss, your property will probably require water damage repair services to return to a functional and habitable condition. Our experienced and trained crew ensures your well-being and peace of mind while working to restore the property and your life to normal.
Dryman Restoration has in-depth knowledge of water damage repairs. This expertise enables us to take on projects of all sizes and severities. Whether your need for water damage repair services arose from a busted pipe, a sewage backup, sink overflow, or any other origin, we've got you covered. Call Dryman Restoration for an inspection of your water damage repair needs.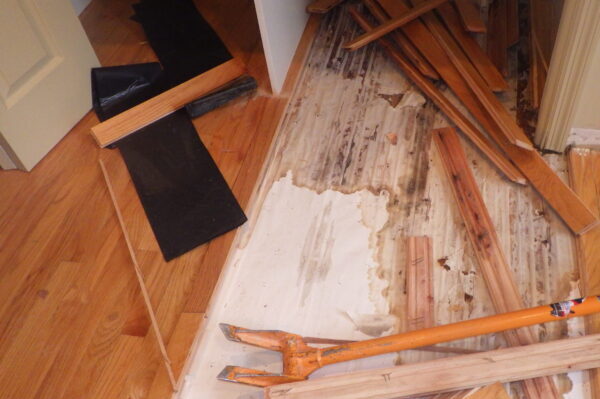 Our Comprehensive Water Damage Repair Process
Water Damage Inspection
The moment you find standing water on your property call Dryman Restoration for a quick response. We dispatch a professional right away to perform a free initial inspection. This way we will determine the source of the damage, and the scope of the damage, as well as provide you with a time and cost estimate.
Water Extraction
Once the inspection has been completed and the water damage repairs plan has been agreed to, our team will quickly start the water removal process. By using our top-of-the-line truck-mounted water extraction equipment, our team is quick and effective in clearing the property of standing water.
Drying & Dehumidifying
Before the repairs can truly get started we need to ensure that no excess moisture is present on the property. If we skip the drying, you are risking rot and mold on your newly repaired property. That is why we never start the repairs if there is excess moisture and humidity.
Water Damage Repairs
Water damage repairs are the last step of our comprehensive service. Dryman Restoration is a highly experienced company with over 70+ years of shared experience in performing various kinds of water damage repairs. Count on Dryman Restoration to restore your property to a perfect state.
Comprehensive Water Restoration Services
Water damage to your property is extremely frustrating. Between saturated belongings and building materials to the potential hazards of standing water, you need fast and efficient water damage restoration services and not just water damage repairs.
At Dryman Restoration, we understand the intricacies of water restoration and use this knowledge to quickly and efficiently return your property back to its pre-loss condition. From water extraction and water damage cleanup to drying, dehumidification, water damage restoration, and water damage repairs, you can count on Dryman Restoration.
Does Homeowners Insurance Cover Water Damage Repairs?
When it comes to water damage repairs, the good news is that most of the time you will have your damages covered by a run of the mill homeowner's insurance plan. There are a few exceptions that will not be covered, like flooding or any water damage that is a direct result of negligence or lack of upkeep.
Whenever you are dealing with insurance, we always recommend that you call up your insurance provider and have them walk you through your specific coverage.