24/7 Flood Restoration Services
When your property suffers flood damage, you are at risk of various forms of water damage and widespread microbial contamination. The flood damage can manifest itself in the form of oversaturated building materials that lose all structural stability, mold, and rot. Additionally, harmful toxins and contaminants pose a health threat when not treated with proper precautions. Flood damage cleanup is series of services that help you mitigate all of these conseqeunces. Call Dryman Restoration for 24/7 floodwater removal, flood damage cleanup, flood damage restoration, and flood damage repairs.
Professional Flood Damage Clean-Up
Most Common Causes Of Flood Damage
Even though heavy storms and flash flooding are the first thoughts that come to our minds when it comes to flooding, the truth is that floods can start for much more benign reasons. No matter the source of the flooding it is important to have a professional water restoration company come and help you in dealing with the flood damage. Knowing the source of the flood will help you act quickly and maybe even prevent the flood from happening. Here are some of the most common sources of flood damage :
Burst or leaking pipes
Sewage backup or toilet overflow
Natural disasters, storms
Faulty appliances
And more!
24/7 Flood Damage Clean-Up Services
The Dryman Restoration team works 24/7/365. This way we are always prepared to quickly respond to all of your flood-related emergencies. Flood damage will only get worse with each minute that passes. The water will continue to infiltrate porous materials and will quickly deteriorate the structural instability of the materials it already infiltrated.
To prevent this, you need to act quickly and call a professional flood damage clean-up expert like Dryman Restoration. Our crew has the expertise, equipment, and training required to make your home or business habitable again. We refuse to cut corners and perform all work up to IICRC industry standards.
Floodwater Removal Services
The single most important aspect of a flood damage clean-up project is the water extraction phase. Quickly removing the water will help significantly in minimizing the overall damage the property suffers. If the water is left standing on the property, the microbes will quickly spread and the water will infiltrate all porous materials. This, in turn, leads to mold development, rotting of materials, and structural instability. To make it even worse, in the eyes of the insurance companies, not reacting quickly is considered negligence and is a reason for claim denial.
Act quickly and protect your property by calling Dryman Restoration. We offer thorough water removal and water extraction services to eliminate excess moisture.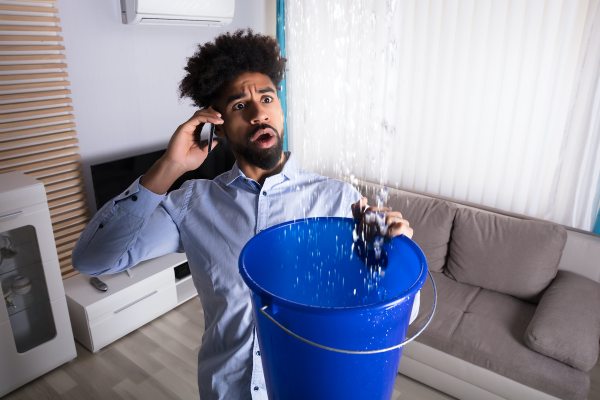 Our Complete Flood Damage Restoration Process
Floodwater Damage Inspection
The moment you find floodwater on your property call Dryman Restoration for a quick response. Our team will be there ASAP to perform a free initial inspection. This inspection will determine the source of the damage, and the scope of the damage, as well as provide you with a time and cost estimate.
Water Extraction
Once the inspection has been completed and the flood damage clean-up plan has been agreed to, our team will immediately start the water removal process. We use our top-of-the-line truck-mounted water extraction equipment, to quickly and effectively remove every last drop of water from your property.
Drying & Dehumidifying
Following the water removal, there is still plenty of floodwater present on the property in the form of trapped moisture and humidity. Our team will work day and night to remove all the trapped humidity to protect you from rot and mold. We are not done until the moisture levels are well below the usual amount.
Flood Damage Repairs
Flood damage repairs are the last step of our comprehensive service. Our team consists of skilled craftsmen and technicians. They are capable of repairing any and all flood damage, anything big or small. From pipe fixes to drywall replacements and full-scale remodeling.
Does Homeowners Insurance Cover Flood Damage?
When it comes to flood damage, it varies from policy to policy. The majority of policies cover water damage if there is no sign of negligence. And more commonly, these policies will have an inexpensive add-on coverage in case of flooding.
Whenever you are dealing with insurance, we always recommend that you call up your insurance provider and have them walk you through your specific coverage.