Water Damage Rockwall, TX
24/7 Water Restoration Services
When you notice water damage Rockwall in yout home or business, it is imperative that you respond quickly in order to minimize damage. The longer you wait to call your local water restoration professionals, the more damage you will be left with and the longer and more costly the restoration process will be. This can lend itself to costly secondary damages such as warping, swelling, and rotting of building materials, structural instability, as well as mold growth. Your best bet is to call Dryman Group for 24/7/365 water removal, water damage restoration, and water damage repairs in the Rockwall, Texas area.
Dryman Group offers 24/7 Water Restoration
Common Causes Of Water Damage
Water damage can be caused by an extensive list of different disasters, and while some disasters can be prevented and others can't, understanding the type of damage you are most likely to deal with in and around Rockwall, TX will help you to respond appropriately to your damage. Our most common causes of water damage include:
Burst or leaking pipes
Sewage backup or toilet overflow
Natural disasters, flood damage, and storms
Faulty appliances
24/7 Water Removal Services
Water damage Rockwall is a time-sensitive matter, and the longer you wait to remove the water, the more damage will be done. The only way to minimize the damage is to remove it as quickly as possible via water extraction services. For this reason, it is always the first priority to begin the water removal process as quickly as possible. Dryman Group is proud to offer our 24/7 emergency water removal services to Rockwall, Texas home and business owners.
Our team arrives equipped with industrial-grade water removal equipment which enables us to perform the water extraction faster than any of our competitors. This not only saves you time and money, but also protects you from significant secondary damage.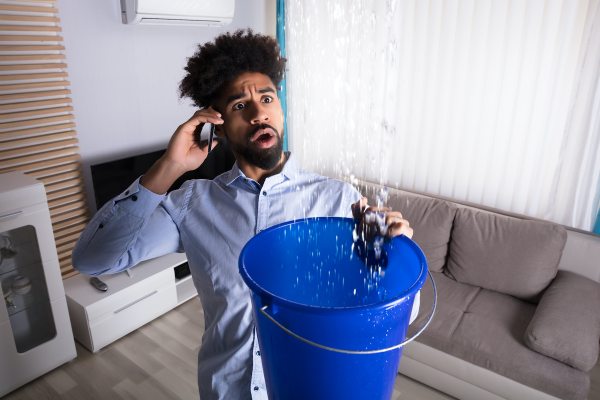 Our Complete Water Damage Cleanup Process
Water Damage Rockwall Inspection
The first step after your call is for professional water restoration experts to inspect the damaged area. Our team checks and evaluates the water damage Rockwall using specialized tools and instruments. We will give you a complete time and cost estimate.
Water Extraction
Once the inspection has been completed and the restoration plan has been agreed to, our team will immediately start the water removal process. The water damage technicians will utilize our truck-mounted water extraction equipment to effectively remove every last drop of water from your property.
Drying & Dehumidifying
Even when the water has been removed, we still need to dry and dehumidify your property to prevent any further warping, deterioration, or discoloration, as well as prevent any potential mold growth.
Water Damage Repairs
Lastly, to get your home back to normal are the repairs after your home is dry. Dryman Group is a licensed general contractor and full-service restoration contractor. We are capable to perform any and all water damage repairs, does not matter how big or how small.
Water Damage Repairs
When your home or business is damaged by a water-related disaster, there are several ways that can manifest. From minor plumbing fixes to large-scale remodeling projects, whatever damage is impacting your property, you will need to find a restoration company that can handle whatever repairs you may need.
Dryman Group is a licensed general contractor with years of experience with all shapes and sizes of water damage. Our team of carpenters, craftsmen, technicians, and plumbers can handle any and all water damage projects, does not matter how big or small.
Does Homeowners Insurance Cover Water Damage?
The great news for you is that majority of the run-of-the-mill homeowner's insurance plans cover water damage. There are a few common situations that will not be covered, such as flooding or any water damage that is a direct result of negligence or lack of upkeep.
Whenever you are dealing with insurance, we always recommend that you call up your insurance provider and have them walk you through your specific coverage.